Regular price
$677.00 USD
Regular price
$1,218.00 USD
Sale price
$677.00 USD
Unit price
per
Sale
Sold out
SPECIFICATIONS
Package: Yes
Origin: Mainland China
Model Number: Pico 4
Glasses Type: Video Glasses
Brand Name: pico
Good News!!!
The Pico 4 Headset is 100% New and Original Chinese version, But we have tutorials that can be converted to Global version! After converting to the Global version, you can switch regions and register an account through the email, and you can choose PayPal and credit card to pay for App Store. (After you change to Global version, please don't update the VR Headset system to 5.1!) After you receiving the PICO 4, you can contact with us, and we will send the tutorial to you!
Language:
English
Português
Pусский(Russian)
(Japanese)
한국어
Italiano
Español
Polskie
Suomi
Dansk
Norsk
Svenska
Nederlands
Français
Deutsche
Malayu
Türkç
Pico 4 - Main Features
【 Model 】Pico 4
【 Display 】 90Hz refresh rate, 4320 ✕ 2160 (2160 ✕ 2160 per eye)
【 OS 】 Pico OS 5.0
【 Processor 】Qualcomm XR2, 8 Cores 64 bit; 2.84GHz, 7nm process technology
【 Optics 】Pancake Lens, 105°FOV, 20.6 PPD, 62-72mm inter-pupillary distance adjustment
【 Positioning and Sensor 】6DoF Positioning System
【 Wireless Connections 】Support Wi-Fi 6, 2.4GHz/5GHz dual band, Support Bluetooth 5.1
【 Storage 】8GB + 128GB / 8GB+256GB
【 Battery 】 5300mAh , At least 2.5 hours usage time
【 Audio 】Integrated high fidelity speaker, Dual mic
What's in the Box?
④ USB-C Power Adapter(Chinese Standard)
⑤ USB-C to C 2.0 Data Cable
    Safety and Warranty Guide
(Notice: If your order shipped from our Russian Federation warehouse,then there is no EU adapter in the box. Please kindly understand!!!)
Pico 4
Imagination, the Only Limitation
It might be small, but wearing it makes a big difference.
Balanced design, easy to wear.
The balanced design means that the weight of the PICO 4 is evenly distributed to the front and the rear. The centre of gravity fits snugly up against the face. The rear has a cushioned support. The result is a superbly comfortable fit. The front does not sway to and fro and the rear does not slip downwards. It is highly stable.
The weight of the front end has been reduced by 26.2% and its thickness reduced by 38.8%.
At the rear there is a high capacity 5300mAh battery.
No matter how long you wear it, you'll be able to play non-stop.
Super Light
Super Clear

The Proprietary Pancake optical lens allows for a wider ,clearer view.
The Pancake optical lens has made the PICO 4 lighter and,because it refracts and reflects light between lenses,means the PICO 4 has both a wider field of view and clearer images.
4K+ Super-Vision Display
The PICO 4 is equipped with two 2.56-inch Fast-LCD screens that can achieve a refresh rate as high as 90Hz.
As well as resolution in excess of 2K per eye, plus a PPI performance of up to 1200. Images in VR must be completely vivid and life-like.
20.6PPD   90Hz   1200PPI
105° ultra-wide field of view means superb images can be seen in full view.
PICO 4 supports 62-72MM inter-pupillary distance adjustment with precision via settings menu.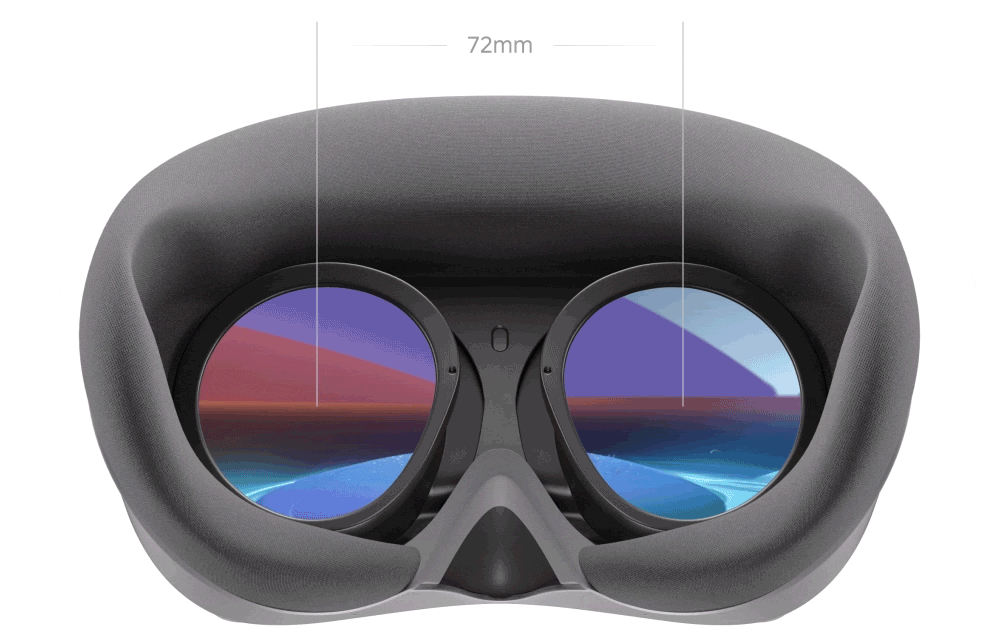 6DoF spatial positioning for heightened VR experience
Sub-millimetre positioning accuracy
Millisecond tracking speed
With proprietary omni-directional SLAM, infrared optical positioning system and upgraded optical sensors, the PICO 4 offers improved tracking and positioning for the headset and controllers, making every VR movement swift and decisive.
The new PICO motion tracker takes VR movement to new heights
The PICO motion tracker can achieve 3DoF spatial positioning. Attach it to your legs to track their movements and make yourself more 'flexible' in the virtual world. Make whatever moves you want. It will capture every movement
SEE THROUGH
Colour See Through has arrived.
While wearing the PICO 4, it only takes one simple click to deal with any 'interference' from the real world.
There are even more MR apps to look forward to.
HyperSense vibration controllers
More sports and fitness APPs for you to choose from
Personal training sessions, boxing, table tennis, tennis, badminton, bowling, fishing…For a fun, fat-burning workout, anytime, anywhere.
PICO VIDEO
\VR concerts, 6DoF interactive films, live ball games, PICO VR theatre, live interest, dynamic comics ...
The entertainment never stops with PICO Video.
4K+
4K+ resolution, 105 degrees panoramic view, and 90Hz Flash-LCD display. Brace yourself for a home theatre visual feast.
Spatial Audio
The binaural stereo speakers are equipped with sound field reconstruction technology.
The sound positioning is calculated from head motion data, resulting in a precise spatial audio effect.
Multi-player Cinema
Invite your PICO friends to a multi-player cinema for blockbusters and live shows. Enjoy real-time voice chat and interactions with virtual avatars. Worlds apart, right beside you.
Noticed:
The Pico 4 Headset is Chinese version, Therefore, when you receive the package, the package display may be in Chinese, butthe VR Headset still supports multi-languages.When you receive the Pico 4 youneeds to manually switch the language, which does not affect the use. Since it is in Chinese, some applications will still display Chinese after the language conversion.If you mind, please place the order carefully.
Share
View full details